Yogi Original Granola Bar Salt E-liquid
Yogi Original Granola Bar nicotine salt e-liquid is crunchy, warm and nutty freshly baked granola coated in rich, sweet honey. Beautiful and satisfying breakfast cereal vape to go with your morning brew.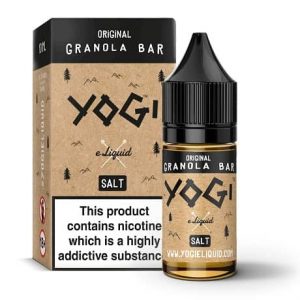 YOGI Vape
Yogi nicotine salt e-liquids are granola based flavoured vape juices made with much love. Smooth, sweet and full of rich oats and smothered in sweet and sticky honey. The YOGI E-Liquid is perfect for the all-day vaping enthusiast and the casual user. Overall, Yogi nic salts are made for everyone! They are available 10mg and 20mg nicotine strengths and made from purest and highest quality ingredients on the market. If you have a sweet tooth or looking for comfort and unique vape style e liquids, Yogi has you covered!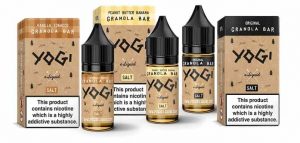 What is Yogi Nicotine Salt E-liquid?
Yogi nicotine salt e-liquid is absorbed into body a lot faster than standard freebase nicotine vape juice. Also, nic salts are less harsh to vape. That means it satisfies nicotine craving quicker and keeps it at bay. Therefore Yogi nic salts are becoming the popular choice for those quitting cigarettes and those who struggle to adapt to vaping. Original Granola Bar nic salts e-liquid comes in 50%/50% VG/PG ratio with 10mg or 20mg nicotine strength. What does it mean? Yogi Granola Bar e-liquids are best for starter kits, pod systems and mouth to lung style of vaping.
Specification
| | |
| --- | --- |
| Brand | Yogi |
| Nicotine level | 10mg, 20mg |
| Flavours | Cereals, Granola, Honey |
| Bottle size | 10ml |
| VG/PG Ratio | 50/50 |