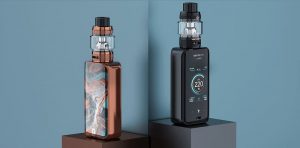 Luxe 2 Vape Kit with NRG-S Mini Sub-Ohm Tank
Vaporesso Luxe 2 with NRG-S tank is another stunning and high performing vaping kit. Luxe 2 mod can fire in a range of 5-220W, is powered by two 18650 batteries and operates in a resistance range of 0.03 to 5 ohm. The mod Luxe 2 has a transformative Axon chip and upgraded UI, and you can expect powerful performance, accurate firing, and a beautiful, easy-to-read 2″ edge-to-edge colour screen. The screen offers an intuitive system menu with a touch panel that gives you a much more comprehensive and smoother space to play. You can easily switch between different modes such as wattage, voltage, temperature, heat curve, and smart mode. It has a new pulse mode that provides constant power throughout each inhale, accompanied by a satisfying throat hit.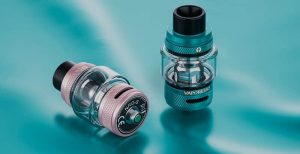 Vaporesso NRG-S Mini Vape Tank
Vaporesso NRG-S mini 2ml vape tank is a worthy part of completing this classy kit. It is compatible with all Vaporesso GT Core coils, which guarantee a cloud chasing machine while providing authentic flavours and adding a mind-blowing vape experience with each puff. This kit comes in stunning colours to satisfy each vaper's style for that added touch.
LUXE 2 Kit with SKRR Tank
LUXE 2 kit combines an elegant aesthetic design with massive power. Vaporesso LUXE 2 has a 2" full-view TFT screen with a touch panel which gives you a much wider and smoother space to play. And with high colour saturation and transparency, LUXE 2 gives you a visual feast.
Luxe 2 Kit Dimensions

NRG-S Mini Sub-Ohm Tank Dimensions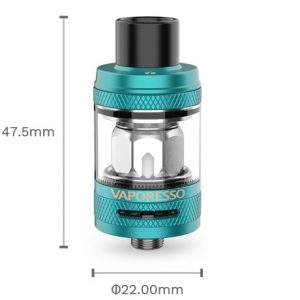 Vaporesso LUXE kit in Detail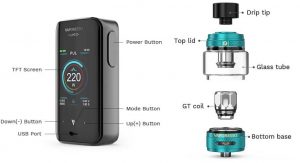 AXON Chip
Giving Extra ThroughoutBy upgrading the OMNI Board to the latest AXON chip, Luxe II breaks the barrier for the entry-level users with a friendly operating system, and it's functional.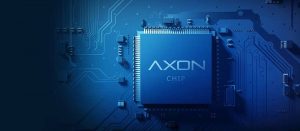 Pulse Mode
The advanced AXON chip brings a responsive vape that can access an innovative PULSE MODE, boosting the inhalation every 0.02s to satisfy you with consistent performance.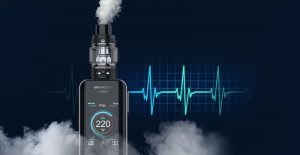 NRG-S Mini Tank and GT Core Coils
LUXE 2 equips the NRG-S Mini tank that uses GT Core coils and mesh GT coils, driven by the PULSE MODE, which gives an impressive vaping experience with large vapour and great flavour.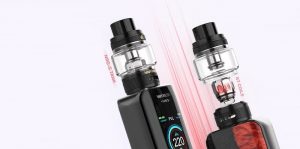 GT Core and GT Mesh Coils
Vaporesso GT Core and GT Mesh coils produce an outstanding flavour experience. You can choose from high-quality cotton coils or ceramic GT CCELL coils. Available in different resistances from 0.15 – 0.5 ohms. Thanks to an extensive coil collection, you will always enjoy the best flavour of your vape juice. These long-lasting GT Core coils provide turbo heating performance for creating denser clouds rapidly and evenly.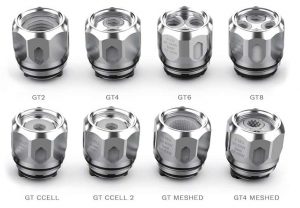 Large Colour Display and Friendly UI
Equipped with an upgraded UI shown on the breath-taking 2.0'' TFT colour screen, which is more friendly to the entry-level vapers. Also leaving room for the advanced vapers to discover their exclusive vaping experience through its functionality.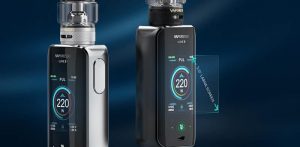 NRG-S Mini Refilling
NRG-S Mini offers an effective filling system with a child lock. Once the drip tip has been pulled out, slide off the top and refill the tank.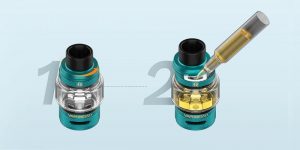 Packing

LUXE II Mod
NRG-S Mini Tank (2ml)
1 × GT MESHED coil 0.18Ω (Pre-installed)
1 × GT4 MESHED coil 0.15Ω (In the Box)
Replacement glass tube (2ml)
3 × O-ring
USB cable
User Manual
Warranty Card
Specification
| | |
| --- | --- |
| Brand | Vaporesso |
| Vaping Style | Direct Lung (DL) |