Cold Menthol 10ml Nicotine Salt E-liquid
SOLT Cold Menthol is an intensely cooling and refreshing nicotine salt e-liquid that will leave you feeling refreshed and energised all day. If you like menthol flavours, then look no further.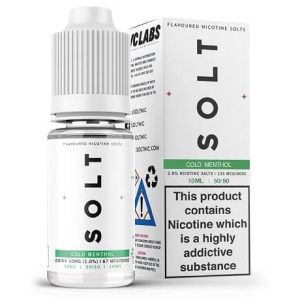 Solt E-liquids
Are you looking for a nicotine salt vape to provide a super-smooth throat hit? If so, Solt collection of salt nicotine e-liquids is for you. The latest evolution in e-liquids, salt-based nicotine juices, allows vapers to enjoy enhanced flavours and powerful delivery that replicates the feeling of a traditional cigarette. And as a leading salt nicotine manufacturer, Solt can supply a variety of nicotine strengths and a vast array of delicious flavours. Explore their full range of salt nicotine e-liquids.
What is Nicotine Salt E-liquid?
Nicotine salt e-liquid, such as Solt Cold Menthol, is absorbed into the body a lot faster than standard freebase nicotine vape juice. Also, they are less harsh to vape. That means it satisfies nicotine craving quicker and keeps it at bay. Therefore nic salts are becoming the popular choice for those quitting cigarettes and those who struggle to adapt to vaping. Solt Cold Menthol nicotine salts e-liquids come in 50%VG and 50%PG ratio with 10mg or 20mg nicotine strength, making them best suited for starter kits, pod systems and mouth to lung style vaping.
Specification
| | |
| --- | --- |
| Brand | Solt |
| Flavours | Mint/Menthol/Ice |
| Bottle size | 10ml |
| VG/PG Ratio | 50/50 |