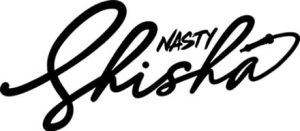 Green Grape Shisha Nicotine Salt E-liquid
Nasty Shisha Green Grape nic salt is crisp, and sweet green grapes were plucked to make this combination possible. Rich flavours with subtle undertones of sourness for that delicious flavour. Green Grape Shisha e-liquid comes in 10 ml bottles with either 10mg or 20mg nicotine salts strengths. As they are all 50VG/50PG ratio, nicotine salts Nasty Juice Shisha are an excellent choice for mouth to lung vaping style (MTL) and a superb choice for pod systems and starter kits.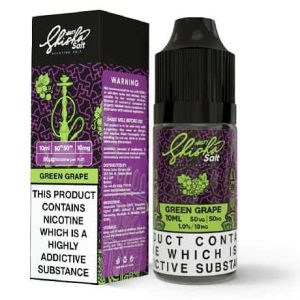 Nasty Juice Shisha Series
Shisha was born from history. Nasty Shisha is an extraordinary series from Nasty Juice's brand to fulfil the demand of shisha flavours made into vape from its lovers. Basically, something new yet familiar flavours from Nasty Juice. All the goodness of antique shisha then modernised and improved as vape flavours. Grab them now and be part of history.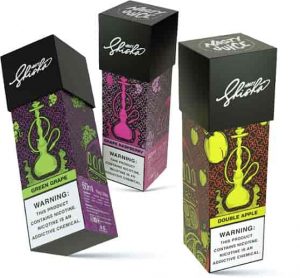 About Nasty Juice
Nasty Juice is a 21st-century obnoxious e-juice brand based in Tampin, Malaysia, with passion at its heart. They are offering an empowered sense of X-rated and a playfully daring spirit. Nasty Juice exploded onto the vape scene in September 2015 founded by Pak Din and his best partner Mr Loky. Their venture starts at the Vapex International Malaysia 2015 intending to create a global business. Of course, Nasty Juice's popularity continued to grow exponentially in UAE, USA, Birmingham, Poland, and Paris. With this in mind, Nasty Juice was further defined by a unique aluminium bottle with exquisite advertisement and top-notch packaging. The vaping industry is very young, and it's growing fast, which is why at Nasty Juice are always up to date with the current trend and designs. Nasty Juice has produced e-juice that gain popularity amongst beginners to experts.
Specification
| | |
| --- | --- |
| Brand | Nasty Juice |
| Flavours | Grapes |
| Bottle size | 10ml |
| VG/PG Ratio | 50/50 |